A bit of a round-up then, of a few interesting stores and ideas floating about on the web.
First up is Dan Harmon, the creator of a remarkably funny oddball sitcom called Community, who uses a technique called embryonic circles to plot out and resolve story arcs for the characters.
The circles is a neat story-mapping tool, and can be entered/exited at any point. We've been thinking a lot about storytelling, or at least the qualities needed to tell one of the many archetypal stories available, it's very interesting to see the mental mapping of someone behind the scenes.
A different kind of mapping is being done at the Powerhouse Museum in Sydney.  Seb Chan has posted some of the initial findings from a few technologies in place in the museum (building on a powerhouse iOS app, a free wifi service and wifi scanners), which can generate heat maps of the building showing the density of electronic devices in each space.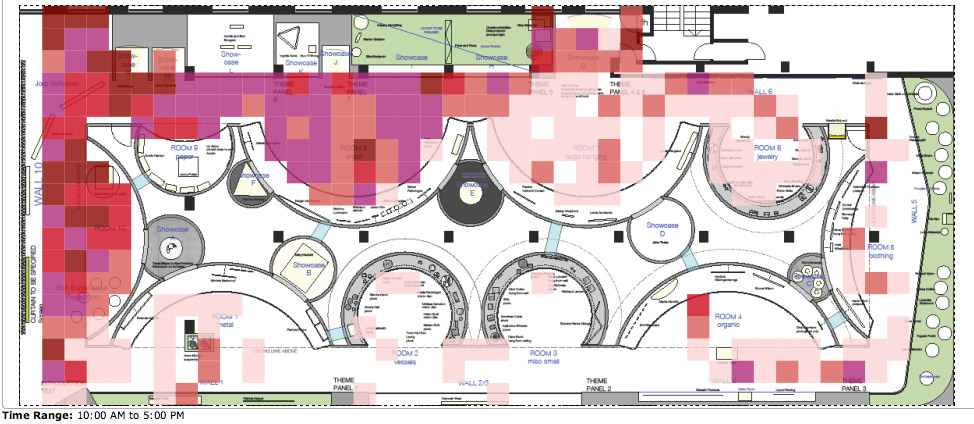 We spotted a write-up on the history of travelling libraries, which has this little gem of insight, from a 1930′s Illinois teacher;
As I watched the children it struck me with force: you cannot measure the value of the bookmobile in dollars and cents, any more than you can measure the value of a new scientific discovery, or a new system of philosophy, or the life of a good man or woman. These good, new, attractive, interesting books that the little ones were picking out for the first time and the eager smart minds — they would fuse, strike, fire, open a new vista, and bring deeper ambition and greater awareness to life and people.
Filip also featured this processing experiment on Creativeapplications.net, it's a map manipulation tool, which allows an openstreetmap set of tiles to be manipulated to reflect a person's memory of place.  The process is as follows; 1. visit place.  2. draw map of place.  3. manipulate actual map, based on mental map.  It's a great experiment into visualising mental models, and gets me thinking about situationist architectural manifestos.  Great stuff.  The video which shows it in action is also pretty neat.
Nest also did the internet rounds last week, I think it's a beautiful attempt to improve an important home interface — although from a sustainability point of view I'd like to see something which encourages users to think about their energy consumption more, not less.  Having said that, it is gorgeous.  Just look at those reflections..
I absolutely love this animation by Richard Swarbrick, featured on The Fox is Black.  It's sublime, the perfect combination of physical beauty and a classic animation style.  Well worth checking out the video (after the jump).
And finally, the ever interesting Bobulate gave us this;
Want to remember an experience? Don't move.

That's overstating it, but a new study shows that just walking through a doorway creates what's called a "new memory episode," which makes it difficult to remember the experience in the previous room:

[M]emory performance was poorer after travelling through an open doorway, compared with covering the same distance within the same room. "Walking through doorways serves as an event boundary, thereby initiating the updating of one's event model [i.e. the creation of a new episode in memory]" the researchers said.
Apparently, there can be these sort of episode markers — "a while later" — in stories as well.

Curious what episode markers mark our digital spaces.
Hope you all have a great week ahead, see you on the other side..