I've had it in mind lately to do more than simply collect and store the design inspiration ideas, concepts and images which get the creative juices flowing. If design school taught me nothing else, it's that ideas and concepts don't exist in a vacuum, and that any creative process will thrive when given the right nourishment. So to that end, I'm commencing a small project to share the small collection of ideas/concepts which excite, inspire and guide us as designers.
So, without further ado, here is the first instalment of
As noted elsewhere..
First up is a short series of questions about design, conducted with Charles Eames in 1972.
Staying with the Eames pair for a moment longer, here's their seminal Powers of Ten video, made with IBM in 1977. It's a short film dealing with the relative size of things in the universe, and the effect of adding another zero. Each 10 seconds the film zooms out (and in) by a factor of 10. Charles & Ray Eames also produced this as a flip book, but the youtube video is the best we'll get.
Changing tack completely, our friends at BERG linked to the amazing Kinect Fusion project, emerging from researchers at Microsoft and a number of universities in the US and UK. This incredible video is made possible through the innovative kinect camera, a consumer grade camera designed for use with the XBox 360 gaming console! It's an incredible piece of technology that appears to be reinventing much of what we think is possible with 3D scanning techniques. Of particular interest is the 'physics simulation' 4 minutes in, and the object detection algorithm, detecting new objects in a 3D mapped space. It's not clear how open the software will be, but it certainly points to a new paradigm of site analysis.
Staying in the UK, BERG and Denstu London recently teamed up to introduce a new type of toy, being described as a new type of media platform, full of possibilities. The toys interact using augmented reality, which is certainly a new direction for media-gaming.
Recently we were linked to the Hyphae lamp by Nervous System, a design firm using generative algorithms to create unique lamp designs for their new series of lamps. Inspired by the growth of leaf veins, they designed a script to create new lamp geometry for each lamp, which is produced by a 3D printer.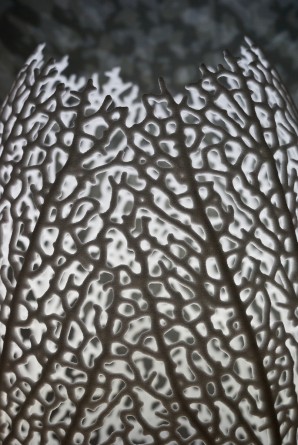 Very exciting!
We'll leave it there for now, stay posted for more notes from elsewhere.